Experimental Box 1
25€

In the tracks of Musique Concréte
The Instrument
| | | |
| --- | --- | --- |
| Experimental Music is the genus for a couple of music styles, which incorporate unorthodox and unique elements. The Experimental Box we offer focuses on aspects of glitch, minmal and noise music and gives you a full toolbox of ingredients for cacophony, dissonance, atonality, noise, glitch, machines, hum, and repetition. It is a wonderful assortment of highgly playable rhythms, ambients and instruments which are perfect for writing music in an experimental and minimalist way. Beyond this, the box is suitable for combination with atmospheric, ambient and cinematic music…or just to build a wild cacophony. | | |

The Content
The rhythms, ambients and instruments of the Experimental Box were assembled from unique sounds such as stations-announcements, trains, paper crumpling, acoustic and electronic noise, station hum, underground-railway noise, pneumatic doors, crown cap shaking, glitches, noise, hiss, hum and other weirdness. Check out all the opportunities the instruments provide by using the modwheel and the programmed surface of NI´s Kontakt
See also the Experimental Box 2"

The Package
12 different patches including textures, hits, loops, one shot and weird ones; such as brakes, noises, paper cuts, frog angels, western dirt and lonesomescape etc. For more details please read the manual.



Kontakt 3 full version is required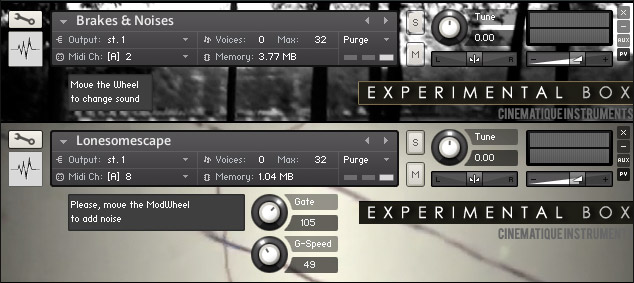 Listen to the Experimental Box
| | | |
| --- | --- | --- |
| ATLANTIC SEA | additional: external Strings | TripHop, © by EvG |
| SOLO | additional: external String | Score, © by EvG |
| W 05a | just Experimental Box | Score, © by EvG |