Jetlag
22€

The other rhythm generator
The Instrument
Jetlag is a sequencer based pattern generator. Such as Geiger Counter it is a non-harmonic percussive module which is best suited to give your music production a contemporary percussive fundament . It works perfect to complement Geiger Counter. You can easily create groovy electronic and undefined patterns or add-on loops!
Please, watch the video below "How to use Jetlag".

The Content
| | | |
| --- | --- | --- |
| Jetlag comes up with three different sound groups which can create numerous sound colors: There are firstly six warm bass drum sounds in different length. Secondly Jetlag provides a assortment of six differnet rim shots – also arranged in length and thickness. And finally there is a collection of well sorted noises and clicks. For modifying the character of your pattern, Jetlag provides an absoute unique and new feature which is called "Continous Random Pattern" which works as a self generating pattern and fills every 16th note with a different sound/ pause. Besides that there are plenty of further options to change the sound to your very own requirements: lowpass- and highpass filter (with a random high- and low pass modulator), distortion-, lofi- and speaker switches, a cacophony (!) switch, separate fader to set the length and volume of all three tracks and separate slider to set the amount of two delays and a reverb. | | |

The Package
One Main complex patch including step sequencer. Jetlag runs in standalone mode as well as in-sync to your host application. For more details please read the manual.


Kontakt 3 full version is required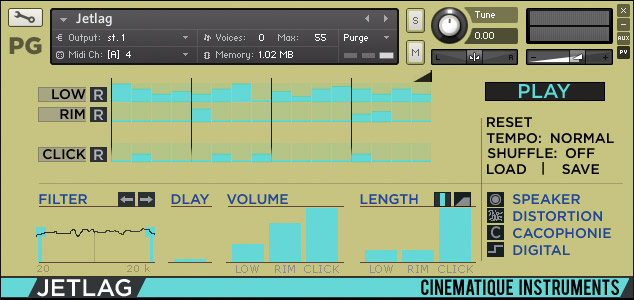 Listen to Jetlag
| | | |
| --- | --- | --- |
| OBSERVE | additional: Alto Glockenspiel, Upright Piano, Cement II (upcoming) and external strings and percussion | Score, © by EvG |
| OPEN SCENE | additional: EK-470, Electric Piano 1, Upright Piano and real Guitar | Score, © by Jumpel |
| SLIME LINE | additional: Cement II (upcoming), Upright Piano, Upcoming Organ | Score, © by EvG |
| BODY LAYS | additional: Alto Glockenspiel, Upright Piano, Sapphire 60, Magnus Organ | Score, © by EvG |