Bowed Psaltery
32€

Extraordinary string sounds!

The Instrument
| | | |
| --- | --- | --- |
| The bowed psaltery is a type of psaltery - a harp alike medieval instrument - which is played with a bow. In contrast with the centuries-old plucked psaltery, the bowed psaltery appears to be a 20th-century invention. | | |

The ../content
We recorded every second (=flat) string of the Bowed Psaltery in different modes: Sustain/ legato notes as seperate upbow and downbow stroke variations with additional release notes, short (app. 3sek.) as well as staccato bowed notes in 4 times Round Robin and tremolo notes. We expanded the original key range (C1-F3) to F0-C4. Beyond that we recorded "slow - tremolo" loops in a range of two octaves.

Update: In 2015 we updated the Bowed Psaltery and put together all separate patches into one complex patch covered by a brand new GUI. It is now possible to play all different articulations in one patch.

The Package
The Bowed Psaltery 2 comes along in one complex patch with all articulations (approx. data size is 60 MB). For more details please read the reference manual. In order to use the Bowed Psaltery 2 without restrictions Kontakt 4 full version is required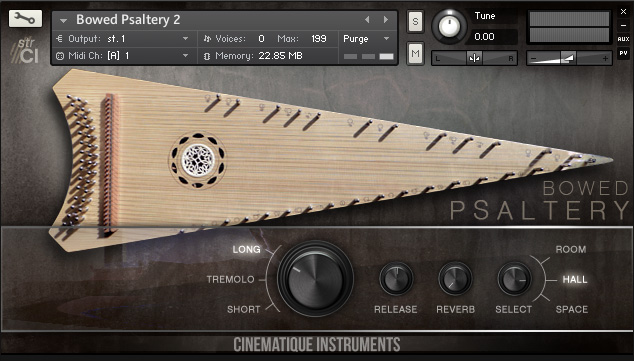 Listen to Bowed Psaltery
| | | |
| --- | --- | --- |
| LEAVING | just Bowed Psalery | Score, © by EvG |
| >BUG STEP | additional:Zeitter & Winkelmann | Score, © by EvG |
| ROOM 378 | additional: Downbeat Box | PopScore, © by EvG |