PURCHASING/INSTALLING/ TROUBLESHOOTING/UPDATES

PURCHASING

How to order and purchase?
To purchase an instruments, add the instrument of your choice to the shopping cart by clicking the "Add To Cart" button. You can add as much instrument as you like to. After making your choice to proceed with payment, please click the "Check Out"/ "PayPal" button. After verifying our terms and conditions you will be forwarded to "PayPal". Beside the regular PayPal payment you can pay Paypal: "paypal - without having a paypal account" or direct bank transfer. Other payment options are not available right now.

As soon as the payment procedure has been succesfully completed you will receive an auto-generated mail containing all download links of the instrument(s) as well as your personal serial number if available.

VAT
Please keep in mind that additional VAT charges may apply on orders to countries inside the EU. With a valid - ID you can purchase our instruments within the EU without VAT. To take advantage of this option, please check the corresponding button at our cart and add your personal VAT ID. Why didn´t I get a purchase notification?
Over the past few years we found that some US providers (for example comcast.net com and sympatico.ca) has been blocking our emails. We have been in contact with these providers in order to sort out the issue. Another reason why you may not have received an email could be an accidental arrival in your spam folder - please check. Anyway, if you don´t get a purchase notification from us within 30 minutes, please contact us.

EDU Discount
We at Cinematique Instruments think that our prices are already very reasonable. That's the reason we don't give any "general" EDU discount. But, if you like to purchase any kind of bundle, even it is a customized bundle we are open to send you a special offer. So, please let us know :)

INSTALLING

How to install our instruments?
After receiving our mail, please download the instrument, unzip it (if not automatically happened) and move the folder/ data to the preferential place at your hard drive. Please start Kontakt and navigate via the 'Browser' tab to the chosen place (where you have moved the instrument before) and doubleclick on the instrument.nki.
For even better and more stable performance, we still recommend moving the library/ instruments to Users > Shared.

Only for Fabrique/ Ensemblia Percussive user:
Please open the Native Access application, log in and type into the "Add Serial" field at left top your given serial number. After successfully installing the instrument, there should be the corresponding icon/ banner inside the Library area.

My instrument plays in DEMO Mode
In general, one must distinguish between Native Instruments authorized libraries, which run both on Kontakt full version and the Free Kontakt Player without restrictions, and unauthorized libraries. Unauthorized libraries require the Kontakt Full Version and can only be played as a "DEMO" version on the Kontakt Player version for a limited time.
We at Cinematique Instruments have decided to save the money for authorizing the libraries and therefore keep the prices for our instruments reasonable. Therefore you can only play our instruments in the Free Kontakt Player in 30 minute DEMO mode and need the full version, which is clearly shown on each instrument page. We hope you understand that.

TROUBLESHOOTING

Inexplicable crashes and more stable performance
If for any inexplicable reasons your library/ instruments crashes, we recommend following Native Instruments' advice.
Add your DAW, Kontakt and Native Access to the full disk access list.
Macintosh Preferences > Security & Privacy > Privacy > Full Disk Access

For even better and more stable performance, we still recommend moving the library/ instruments to Users > Shared.


Missing GUI when using Kontakt 6
If it should happen that your instrument GUI and its elements are no longer recognizable when updating to K6, please follow the steps to "refresh" it described on this PDF instructions!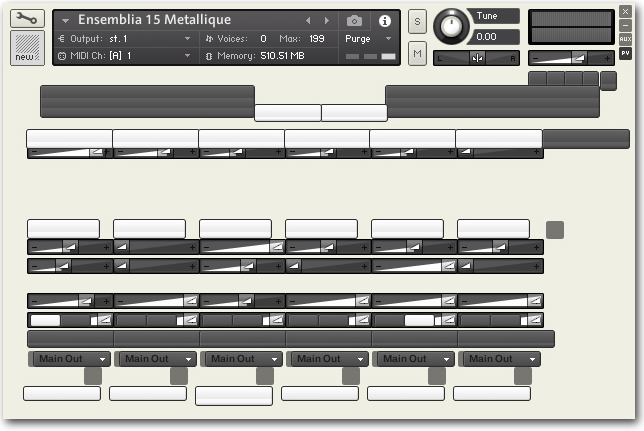 Volume Drop @ Interval and Interval Les Femmes
Some customers who bought Interval or Intervall Les Femmes have the problem that the volume drops to zero after the first use. They think that the instrument is not working properly. The solution is simple. The volume of Interval is controlled by the modulation wheel in default mode. It seems that the Modwheel is receiving data and is sending the Modwheel value = 0, so that all volume values are set to 0.

Solution: Either control the sound with the modulation wheel or set the controller to "off" in the options menu. Then save INTERVAL and call it "Interval without MW". That´s it!


UPDATES

Rytmik 1 to 1.11
What is new in version 1.11 Luft 1.1 to 1.2
What is new in version 1.2 Grand Harp 1 to 1.1
What is new in version 1.1 Solo Vibraphone to 1.1
What is new in version 1.1 Ensemblia 1.5 to 1.51
What is new in version 1.51? Ronroco 1 to 1.1
What is new in version 1.1

Contact support

For any other not answered inqueries please contact us at: support-at-cinematique-instruments.com