Electric Piano 2
35€

no VAT

The classical Fender Mark I

This is the sound of the legendary and vintage Fender Rhodes Mark I e-piano which was first introduced in 1975. Its sound differs from that of the Mark II or Mark III, it´s less bell-like and has a more comfortable and warmer tone. We´re happy to say that we've recorded that real vintage sound and brought it to you. The Rhodes Mark I we´ve recorded isn't in that perfect condition but that's exactly what makes it so irresistable.

KOntakt 5.6.8. OR LATER
FULL VERSION REQUIRED
Approx. 1.200 Samples
600 MB Compressed

| | | | |
| --- | --- | --- | --- |
| | Warm Sound | | Realistic |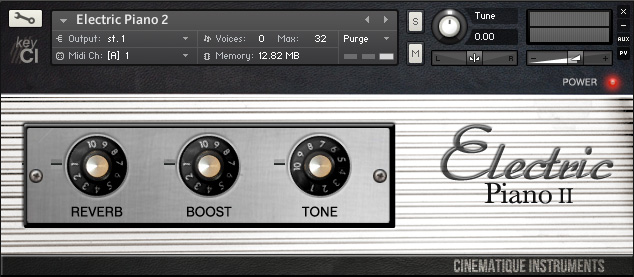 Listen to some audio demos
| | |
| --- | --- |
| CLUB ZERO | Eric van Gent |
| DIRT JUMP | Eric van Gent |
What is the Electric piano?
The Electric Piano is based on the legendary and vintage Rhodes Mark I e-piano which was first introduced in 1975. Its sound differs from that of the Mark II or Mark III, it´s less bell-like and has a more comfortable and warmer tone. We´re happy to say that we've recorded that real vintage sound and brought it to you. The Rhodes Mark I we´ve recorded isn't in that perfect condition but that's exactly what makes it so irresistable.

We recorded at least every third note without looping the sound (real release). Each note is in 4 velocity layers with 2 Round Robin variations and a seperate release sound. The mapping is all from B1 to C7 (88 notes) and we added a script for controlling the amount of reverb, vibrato and distortion (Boost).
Update: In 2015 we updated the Electric Piano and put together all separate patches into one complex patch covered by a brand new GUI. It is now possible to play all available options in one patch.